With the current requirements for social distancing amidst the current COVID-19 crisis, fellowship programs at hospitals throughout the United State have been required to turn to virtual and video interviews for their recruitment. Residency programs will likely have to follow suit, at best even if in a limited capacity, this fall.
And while the in-person interview has historically been held with a near-sacred status in graduate medical education, the current situation has resulted in more programs adopting technology on an accelerated basis, aligning more with other industries that have been recruiting virtually for decades. Previously, it seemed that video interviewing in GME was confined to programs in remote areas and/or those completing studies of in-person vs. video interviews. Now, it is becoming a much more utilized practice!
It is likely in the future, even after the crisis, there will be some push towards video interviews, starting with their screening capabilities. It seems that video interviews for residency and fellowship programs are here to stay!
5 Video Interviewing Tips
Here are Team Thalamus' top 5 tips for video interviewing during residency and fellowship program recruitment.
Optimize your interview environment.
First impressions matter whether meeting someone in person or via webcam and video conference software. Designate a specific location where you will conduct your interview. Ensure it is quiet and away from noise and other distractions.
Make sure that your background is neutral without clutter. Software such as Zoom and Microsoft Teams have virtual and blur background features, respectively.
Ensure appropriate lighting. Usually overhead lighting is sufficient, but a lamp can also be used. Try to avoid windows, as glare from the sun may create challenging views.
Test the technology beforehand.
Test your webcam and microphone to ensure proper permissions and compatibility with whatever video conferencing software will be used. Ensure your speakers are at an appropriate volume.
Some apps, such as Cisco Webex, usually require some form of installation. Others, such as Microsoft Teams, have desktop applications that provide distinct feature advantages and user experience over the corresponding web application.
If your Wifi is historically unstable, consider using a hard-wired ethernet connection.
If using a laptop, ensure the power source is plugged in to avoid the battery going dead.
If the video conferencing software requires a profile photo, ensure the photo is professionally appropriate.
A test run or dress rehearsal never hurts.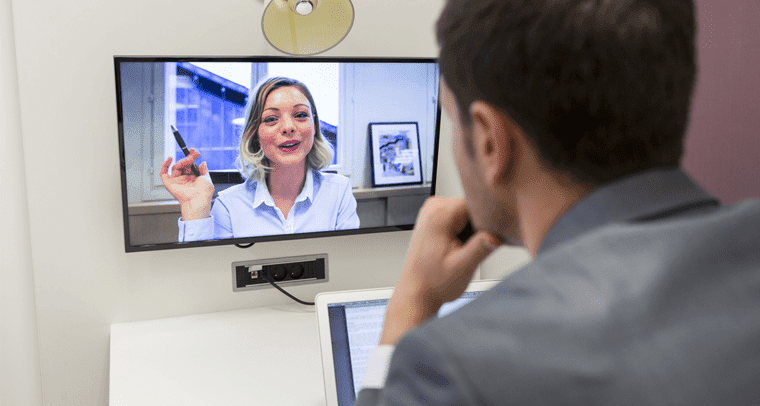 Proactively remove potential distractions.
Inform anyone in your immediate vicinity (family, friends, children, and even pets :)) that you have an upcoming video conference, silence cell/home phones and mute any other loud device. Again, silence your cell (without vibration) to ensure a misplaced text message or app notification doesn't disrupt your interview.
Similarly, disable all notifications on the computer that will be used for the video conference. This includes Gmail and Outlook, any remote working software (Teams, Slack, etc.) and calendar notifications. Ensure other windows, especially those including content that may be considered unprofessional are closed on your computer in case you need to share screens.
Appearance is everything!
Dress professionally as you would for an in-person interview. Consider an outfit that stands out well from the background (think like the costume designer for your favorite movie or TV show).
Make sure you are well-groomed.
Use a stationery chair. Swivel chairs are distracting. Sit still, lean forwards slightly and make minimal use of your hands (or keep them still entirely).
Angle the camera downward slightly. This promotes eye contact and is a more slimming view. Look into the camera directly when responding to questions to promote optimal eye contact. Listen attentively and with accompanying body language as you would during a face to face conversation.
Use the self-view video to your advantage. If you believe it will be distracting or make you self-conscious, close it. Otherwise, it can act as a good check to ensure you're presenting yourself in the way you'd like to the other person (or group of people).
Go with the Flow
Technology is great, but it comes with its own challenges and difficulties. If you are doing many video interviews, expect that something will inherently go wrong. Some connection will likely be lost at some point. Sound or video may get choppy. Whatever occurs, be flexible and forgiving as applicants or interviewers.
Given that everyone is meeting over some distance, coordination may also be more challenging. In person, one would have to worry about entering the wrong conference room; similarly, ensure you are using the proper link to access the correct video interview. If breakout rooms are being used, available in applications such as Zoom, make sure you are entering the correct sub room.
If your computer audio isn't working, consider dialing into the meeting by phone for the audio component.
If worse comes to worse and the technology isn't cooperating to allow for a satisfactory interview, discuss with the interviewer/interviewee rescheduling for another time.
In Conclusion
The COVID-19 crisis has resulted in GME adopting video interviews for residency and fellowship recruitment in widespread capacity. Video interviews can be an incredible tool for programs and applicants alike, and best practices allow for an optimal experience. These include perfecting the interview environment, testing the technology, removing potential distractions, optimizing appearances, and maintaining flexibility.
Thalamus streamlines residency and fellowship interviews for programs at over 150+ institutions throughout the US and Canada. We have also now released a GME-specific video interview software (for which the above tips will work great!) and written extensively on how GME programs can optimize selecting video conference software as well as integrating this software with Thalamus or using our custom video conferencing feature!
If you want to learn more about Thalamus, please contact us or schedule a free demo. We look forward to hearing from you!